Ginerva Molly Weasley (born 11 August 1981) is a fictional character from the Harry Potter series of novels by J.K. Rowling. She is portrayed by Bonnie Wright in the film series. Her moveset was submitted by Cena during Make Your Move 2.0.
A member of the large Weasley family of pure-blood wizards, Ginny attended Hogwarts School of Witchcraft and Wizardry from 1992 to 1999 and was an active participant in the Second Wizarding War, particularly as a member of the Order of the Phoenix and Dumbledore's Army.
Character Outline
Edit
For full character outline, refer to her article at the Harry Potter Wiki.
Concept and Creation
Edit
The moveset began development for Make Your Move 1, but did not make the time limit, so Cena moved the moveset into Make Your Move 2, where the moveset was completed. The moveset was developed to reflect on Ginny's fiery personality, her magical power (despite her size), and her skills on a broom.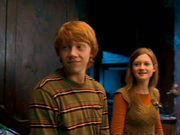 Reception
Edit
Ginny was fairly well recieved. Mantlecore77 stated that although not a good idea for the Smash Bros. series, Cena had put so much work into it that it had earned his vote.[1] Ivoryflame added that the moveset was as "long and detailed as one of the [Harry Potter] books".[2].
Ginny earned Cena his second top 20, taking 18th place in MYM2.[3]
References
Edit
Relevant Links of Interest
Edit