"The primary purpose of this weblog is as an easily-accessible hub for all MYM4 participants to get answers from us, The Sandbags, submit their movesets for Sandbag Review, and check up on what everyone else is doing."
--Chief Mendez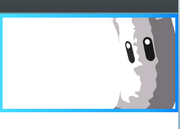 The Stadium was created at the start of Make Your Move 4. Hosted by Chief Mendez on his Wordpress account, it serves as a catch-all reference for everything related to MYM.
The Stadium hosts a comprehensive list of movesets, brief history of MYM, reviews done by Sandbags, and also a reference for Story Modes.
Recurrence
Edit
The Stadium made a second appearance in MYM 5, under its new name, The Abyss. Five new members were added to the crew:
Tanookie
,

MarthTrinity, bkupa666, Spadefox, and Hyper Ridley.
External Links
Edit